"Everyone was so kind to mum
over the past three years and
the family are most appreciative
for the care and attention given
to Josie over that time. "
Service User
GET STARTED
Contact us to discuss how we can create a bespoke service to meet your needs.
Tel: 01342 833101
Telephone lines are open Mon to Fri
9am - 5pm. For after
hours and weekends
please call 07754 959 660
Just some of the kind words from our clients and their families…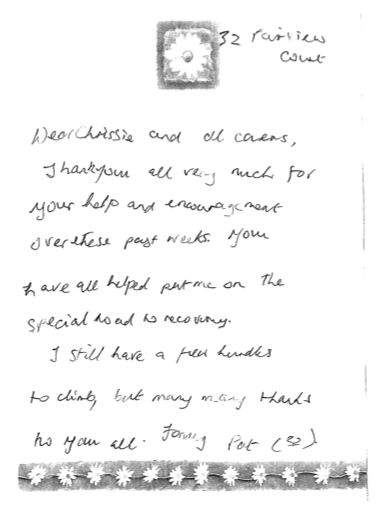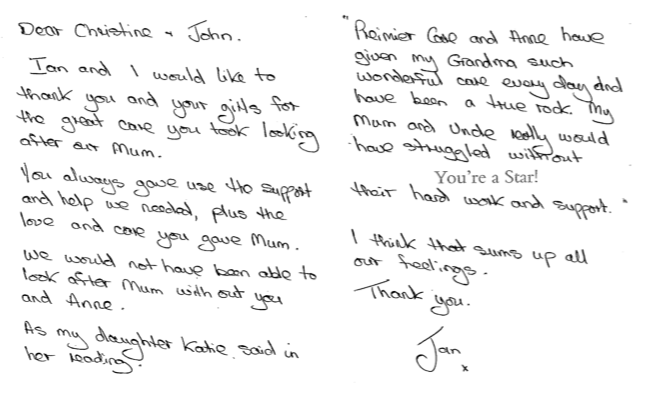 Premier Care really do care, they are a great team of carers treat my Mum with kindness, dignity & respect. Having experienced other agencies before Premier began looking after my Mum. I can absolutely recommend them. I don't worry and feel my Mum really is in great hands. I think the service is outstanding from the top management to everyone in the agency that we have had any dealings with. Thank you Premier Care.
I cannot find any fault with the agency. They are all very nice to me and I like them very much.
I am rather elderly & suffer from Osteoporosis and have found that Premier are a great help. They make my bed, wash up & prepare a simple breakfast and generally help around the house. They help me with the restrictions in my life.
I wish to say thank you to all the carers who worked at Dart Court East Grinstead. They made last 15 months of my Father's life as happy and as comfortable as possible . The care they gave my Dad, Alfie, was excellent and the care and love was above and beyond the call of duty. I wish you all good health and happiness for the future and you will all way have a very special place in our family.
I am writing on behalf of the whole family to thank you and your staff for the care you gave to mum over the past years.
We were particularly grateful for the way you kept a consistent team of carers working with mum, which was very important to her and to us. We were also impressed with the way the carers kept up their visits during some very bad snow when travelling. This must have been difficult and I also know that some of the carers walked to their calls.
Thank you all again for your support through some difficult times.
Everyone was so kind to mum over the past three years and the family are most appreciative for the care and attention given to Josie over that time. Thank you once again for all you did for mum.
I am writing on behalf of the whole family to thank you and your staff for the care you gave to mum over the past years.
Phyl and I want to put on record how impressed we have been with the care Joan has received from all the staff that works at Premier Care. They have gone beyond the call of duty in all they have done for Joan and we know she is indebted to them all and would want us to thank them on her behalf. Perhaps you would pass on our thanks.